How Fruitful Is Love? Valentine's Day In Slovenia
04.02.2011 @ 15:00 | by Slovenia Holidays
Internationally, Valentine's Day is celebrated on February 14, but not every country celebrates it as the holiday of love. For those who love Slovenia, they are familiar with the day of love that the locals celebrate. Saint Gregory's Day, on March 12, marks Slovenian's day of romance. Still, Valentine's Day has special meaning to the locals.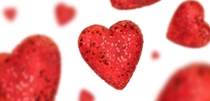 Locals enjoy Valentine's Day Slovenia style by beginning the first day of work in the fields. Tradition says that plants begin to grow on the middle day of February. It is also a strongly held tradition that the birds of the fields propose to their loved ones on this day and marry. Slovenians who would like to see the ceremony of birds must walk barefoot to the bushes, though with the still frozen ground, it is not the most comfortable cruise.

Before Chaucer wrote his "Parliament of Foules" no one had associated the holiday with love. Since, it has slowly transformed into a day blooming with affections and pining. Maybe the ground is frozen solid on February 14 in Slovenia, but hearts are beginning to melt with the idea of spring's arrival and the true day of love less than a month away.
While commercialism may be re rooting tradition internationally, it will not change the long honored celebration of the culture.
Categories: History, Info
Tags: Saint Gregory's Day, Slovenian holiday, Valentine's Day

Comments